So, a few months ago I received an ARC for a YA series called Runes by author Ednah Walters. I was blown away by the series, set in my home state of Oregon. A week later, I was asked to join the book tour. And here we are! Today's the last stop, so I recommend that you visit the others on this tour to read their reviews, more sneak peeks at the second book, IMMORTALS (due out August 2013!), and sign up for the fabulous giveaway.
Seventeen-year-old Raine Cooper has enough on her plate dealing with her father's disappearance, her mother's erratic behavior and the possibility of her boyfriend relocating. The last thing she needs is Torin St. James, a mysterious new neighbor with a wicked smile and uncanny way of reading her. Raine is drawn to Torin's dark sexiness against her better judgment, until he saves her life with weird marks and she realizes he is different. But by healing her, Torin changes something inside Raine. Now she can't stop thinking about him. Half the time, she's not sure whether to fall into his arms or run. Scared, she sets out to find out what Torin is. But the closer she gets to the truth the more she uncovers something sinister about him. What Torin is goes back to an ancient mythology and Raine is somehow part of it. Not only is she and her friends in danger, she must choose a side, but the wrong choice will cost Raine her life.
My review:
I must say that it was very enjoyable. The characters felt more real than most YA books. These kids had well rounded lives that involved equal measures of school, modern day internets, and high school participation. The story felt a bit rushed but it was a good opener for a promising series. The supernatural bits kept me guessing and I can say that I look forward to learning more about the world that Walters has created. As a resident of the Pacific Northwest, I loved that this book was set in Portland, Oregon's backyard. I also enjoyed how Walters used runes in her story. I don't read runes but I love divination types and seeing that the runes were made into a magical system, that also doubled as a type of tattoo, got me really excited. I can't wait to see how this system develops and morphs later in the series. If you want a good, fun and fast read, then Runes is that book.
As for the giveaway, 5 lucky winners will win one of each item shown below: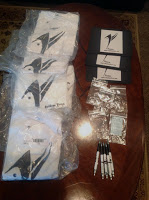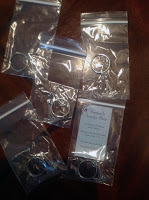 As a bonus, here's two excerpts from Runes as written by the love interest Torin:
Continue reading Runes Book Tour Stop